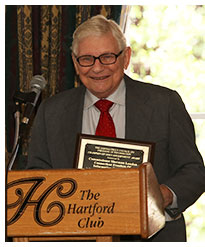 London was the 2013 recipient of the "Champion of Open Government Award" from the Connecticut Council on Freedom of Information.
Sherman D. London is has been active in Connecticut news media for more than 40 years. Today, in addition to providing consulting services for clients of Michael J. London & Associations, Sherman London is a member of the Connecticut Freedom of Information Commission.
He was a political and legislative reporter for the Waterbury
Republican-American for more than 20 years, serviced as Assistant Manager Editor of The Republican and was Editorial Director of the newspapers for more than 20 years.
Among his numerous awards, London in 2007 was named to the Connecticut Journalism Hall of Fame. Earlier in his career, he was awarded for outstanding service to the community by the Greater Waterbury Chamber of Commerce and was granted the Community Service Award by Mattatuck Community College. He also was the recipient of numerous awards for journalism.
London has provided public affairs assistance to the Federal Emergency Management Agency (FEMA) during disaster relief efforts.
He has lectured at the University of Hartford and is a well-known commentator and panelist on radio and television. Among his many volunteer positions in the community and professionally, he is a former president o the Connecticut Chapter, Society of Professional Journalists, former Chair of Advisory Committee to the state's Board of Governors for Higher Education, Co-chair of A Community Vision of Waterbury, a member of the Board of Directors of Greater Waterbury Arts Resource Council and a member of the Advisory Committee, Waterbury Branch of the University of Connecticut.
WATR Interview – March 7, 2013
Sherman London with WATR host, Larry Rifkin
Part One

Part Two

REPUBLICAN-AMERICAN
Retired editor gets Open Government Award Sherman London. Sunday, 7/1/12
The Connecticut Council on Freedom of Information awarded its Champion of Open Government Award to Sherman London, a member of the state Freedom of Information Commission and retired editorial page editor of the Waterbury Republican-American at its annual lunch at the Hartford Club on June 20. London, 90, was the longest serving commissioner on the state Freedom of Information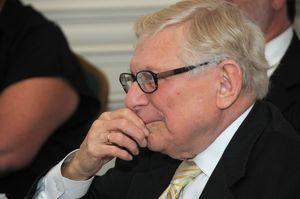 Commission. The Southbury resident received the Champion award "in recognition of his extraordinary service to the people of the state of Connecticut in preserving, defending and enhancing access to government information essential to a healthy and vibrant democracy."
Photo courtesy of Gary Lewis