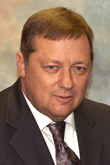 Ronald Winter joined Michael J. London & Associates as a Senior Account Executive in 2001 and was named a Director of MJL&A in 2005.Before joining the firm, Winter was Director of Public Information for the Florida Department of Transportation in the Tampa Bay region.
For 10 years he was a reporter at The Hartford Courant and then, for seven years, was supervising editor and a columnist at the Manchester-based Journal Inquirer. Winter owned and operated the event management firm Coordination Plus for nearly 10 years.
Winter has received several prestigious journalism awards including the Roy W. Howard Award, the Sevellon Brown Award, Sigma Delta Chi Public Service Award, and was nominated for a Pulitzer Prize.
Ron Winter – Vietnam '68
As a Marine, Winter flew 300 combat missions as a helicopter machine gunner and was awarded numerous decorations including the Vietnamese Cross of Gallantry and 15 Air Medals. He is author of a Vietnam War memoir, Masters of The Art.
Winter holds a degree in electrical engineering from Hartford State Technical College and B.A. in English from the University of New Haven. He is married and has three children.
Click here to read Winter's blog:  www.RonaldWinterbooks.com/blog/
Masters of the Art is an historically accurate account of US Marine helicopter operations in the area of the Demilitarized Zone and the Laotian border during the Vietnam War.
The book, published by Random House, provides a compelling view of Marine training, the heroics of individual Marine pilots and crews, and the aftermath of a war in which the fighters, like out South Vietnamese allies were abandoned by their government.
www.RonaldWinterbooks.com
Granny Snatching is the true account of the late Ella Winter's successful fight to prevent her offspring from forcing her into an Alzheimer's home, even though she never had Alzheimer's.
Ella, who took refuge in her son Ronald's home in Connecticut and lived out her final years in safety, despite repeated assaults on her freedom, symbolizes the growing national scourge, Granny Snatching, in which the elderly are forced into institutions against their will while unscrupulous family members and guardians strip them of their hard-earned lifetime assets.
www.GrannySnatching.com
Ronald Winter
P 203.261.1549
C 860.228.6803